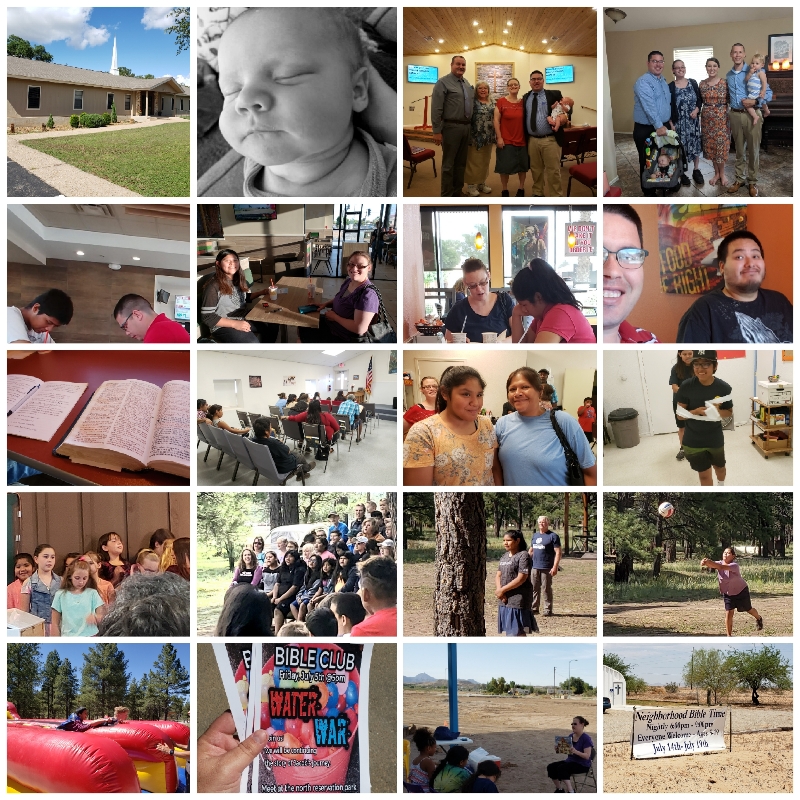 Dear Family and Friends, We want to thank you so much for your prayers and financial support these past few months! We had quite a few special financial gifts given to us. We want to thank you all!
Thankfully, my family and I were able to travel to a few churches together. Mostly during the month of June. We have been to churches in the states of Arizona, California & Texas.
It's be fun and busy these last few months. Thank you again for all your prayers! We have seen God do some amazing things because of your faithful intercession!
You may have already heard some of the following news on social media, but for the ones who haven't heard here is our update for the last 3 months.
During the month of May, my wife and I spent most of our time trying to help our son get a schedule down. It has not been easy. Most of you parents know and have experienced this. We started Bible clubs on the North Reservation again. It has been a blast!! The few kids we have love learning Bible stories, having contests, & singing Christian songs! We have been going through discipleship with 6 teenagers and 2 adults as well- usually once a week. Towards the end of May, I had an opportunity to preach and present at a missions conference in Flagstaff, Arizona.
In June, My family and I traveled to Texas for two weeks of the month. I got the opportunity to preach and present at 6 churches. It was a new experience for us traveling with a newborn son! During one church service, I was able to present the gospel to 2 young adults that both got saved! Praise the Lord!
When we returned home after travelling, we had Bible clubs, Discipleship, Teen Frito Bowl Night, Junior Camp week (West Branch in William's, Arizona) as well as presenting our work to a church in Queen Creek, Arizona. It was a long and busy month for us, but to God be the glory, We got to witness many Cocopah kids make awesome decisions for the Lord at Junior camp!
During the month of July, we had Teen Camp (West Branch in Willams, Arizona). It was a blessing to see the kids get involved and have a fun time at camp. The next week, we had Neighborhood Bible Time. During that week, we saw 4 salvations! A special request to pray for Emon. He is a 13 year old who just got saved during NBT. He has shown a different spirit since his salvation. Please pray that he will continue to grow in his new faith.
The following week, we were able to present at a Missions conference in Corona, California. The people there were kind and loving towards us. Please continue praying for souls to be saved and for us as we minister to the Native Americans.

Up Coming Events:
August
Independent Baptist Indian Mission Inc. Conference 1st- 3rd
Presenting at 3 churches in New Mexico
Bro. Jacob's ordination service 23rd

September
West Branch Youth Conference 7th
Presenting at 5 churches in the states of West Virginia, Ohio and New York.

October
Capture the Flag Teen Activity
Presenting at 4 churches in the states of Iowa, Illinois, Wisconsin, and New Mexico.

Bible clubs & Discipleship classes that we do on a regular basisFuture Ministry Goals: One of our main goals is to help assist Pastor Veldhuis at Cocopah Bethel Independent Baptist Church. In the future, we also desire to plant a church on the Quechan reservation and establish other ministries as the Lord leads us to start in order to reach Natives for Christ. Please pray that God would begin working in hearts and would open doors in order to allow us to reach these goals. Currently ,there are over 1.6 million Native Americans in the United States and 562 distinct sovereign tribes. Many of these tribes struggle with substance abuse and poverty and have no gospel witness. Please pray with us that God will send more laborers into the Native American field located right in our backyard.
Prayer Requests:
Salvations- Mariella, Satori, Ayla, Cayden, Airus, Sherry, Stanford, Sylvia, Mary, Joe, Jessie.
Spiritual Growth- Molly, Loren, Tyler, Lilly, Roxanna, Alex, Edward, Justice, Jasmine, Mya, Kayla, Vincent
Health: Lydia, Sherry with possible tumor; Mary, Edward, and Bro. and Mrs. Veldhuis with general health.Personal Needs:
That more churches will take us on for support. As of now, we are at 51% of our support goal.
Pray that the Lord will provide for our needs.

Praises:
In June, I had the opportunity to lead two young adults to Christ while my family and I visited a church on our way to a church in the evening where I was going to preach! God has given us a healthy baby boy (Samuel), He has helped in healing my wife after her c- section, protected us while on the road, and provided for our every need, He has answered our prayers with the kids and teens in making Spiritual decisions for the Lord and He has given us meetings for the next couple months! God is so good!
Thank you for all your prayers and financial giving towards our work!

Sincerely In Christ,
Jacob and Lydia Jones Missionaries to the Native Americans
Cell: (928) 315- 5057
Email: jacobjones6064@gmail.com

II Corinthians 4:3-4
"But if our Gospel be hid, it is hid to them that are lost: in whom the god of this world hath blinded the minds of them which believe not, lest the light of the glorious gospel of Christ, who is the image of God, should shine unto.