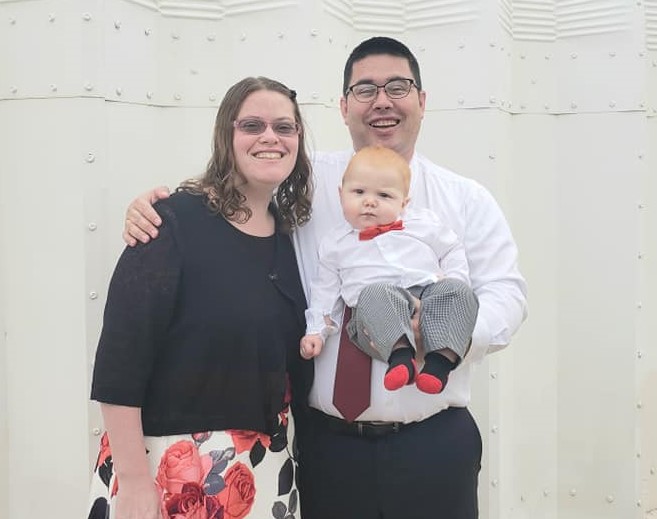 Dear Family and Friends,
We want to thank everyone so much for their prayers and financial support these last few months! Thankfully, my family and I were able to travel together! We were able to present at churches in the states of New Mexico, Texas, Arizona, California and Louisiana. It's been very busy these last few months. Thank you again for all your prayers. We have seen God meet with us at many of these meetings.
During the month of November, we had meetings in Arizona, Texas, and Louisiana.
On November 1st- 3rd, we got to attend a Mission's conference in Catalina, AZ as a family. The people were very kind and generous. It was a fun and exciting conference! We thoroughly enjoyed it.
On November 7th- 9th, we had our annual Native revival at our church. We had Navajo preachers travel down from the Gallup, NM area to preach for us! It was a time for all of us to get our focus back on God. Living in this world, it's easy to lose focus on our job as Christians. We had a great turn out! A few people came to church that normally do not come. Praise the Lord!
From November 9th- 25th, Jacob went alone to present at churches in Texas, Louisiana, and northern Arizona while Lydia and Samuel stayed behind due to the elevation where the meetings were held. Praise the Lord God protected Jacob on the road!
On November 29th, we had a teen bonfire at the church. We had pizza, drinks, & marshmallows to roast. Lydia told a Bible story and Bro. Jacob gave an application. We had 9 teenagers that attended this event. Everyone had a great time! Please, keep these teens in your prayers. These kids are raising themselves. Many of their parents are alcoholics! Some get beaten and most are neglected and left to fend for themselves. It is our job to show them the love of Christ!
During the month of December, we took a break from traveling and spend the month focusing on the Cocopah tribe. We did Bible clubs, individual discipleship, Teen class, and helped host a churchChristmas party.
On December 5th, we had a Bible club and a few kids came to Brother Jacob and asked him if there really is a God. Brother Jacob explained that there is a God and He has a son who came to earth for us. He went through the Romans Road with them, but the kids said that they were not ready to pray yet. So, we are praying that they will understand salvation and come to know Christ. The kids that come to the Bible club love it and are faithful in attendance. Their excitement is such an encouragement to us!
On December 22nd, we had a Christmas party for the whole church! We had about 45 Cocopah people come. Pastor Veldhuis told the Christmas story and gave a invitation. After a meal, everyone who attended got a Christmas bag with candy, fruit, a toy, and a gospel tract. Everyone had a great time! It blessed our hearts to see these kids open these gifts because we know that a lot of these kids get nothing for Christmas.
In January, we presented at churches in New Mexico & California.
On January 9th, we had a conference in Deming, NM and were greatly encouraged by our time there! On the 12th, Jacob was able to present the ministry in Temecula,CA. From the 19th-26th, we were able to present at 6 more churches throughout California.
On 27th, our family came down with respiratory infections. Jacob drove back to Yuma to drop Lydia & Samuel off so they could recover. Lydia's parents are watching over them while Jacob continues to meetings in Texas. Lydia and Samuel will rejoin him in 2 weeks. Please pray for our health to recover!
Prayer Requests:
Salvations- Mariella, Satori, Ayla, Cayden, Airus, Sherry, Stanford, Sylvia, Mary, Joe, Jessie.
Spiritual Growth- Molly, Loren, Tyler, Lilly, Roxanna, Alex, Edward, Justice, Jasmine, Mya, Kayla, Vincent and Amon.
Health: Lydia, Baby Samuel, Sherry with possible tumor; Mary, Edward, and Bro. and Mrs. Veldhuis with general health.
Pray for Present Ministries
* Bus
* Bible Clubs
* Children's
* Teen
* Seniors
* Soul Winning
* Discipleship
Pray for Future Ministries
* Bible studies on the Quechan reservation (Lord willing Oct. 2020)
Currently, there are over 1.6 million Native Americans in the United States and 562 distinct, sovereign tribes. Many of these tribes struggle with substance abuse and poverty and have no Gospel witness. Please pray with us that God would help us plant churches and that He will send more laborers into the Native American field located right in our backyard.
Personal Needs
That more churches will take us on for support. As of now, we are at 50% of our support goal. We lost a little bit of our support due to churches and individuals having a lack of funds.
Thank you all who give and pray for our needs!
Upcoming Events
February
2nd-Marion Baptist Church in Marion, TX
5th- Grace Baptist Church in Porter, TX
9th- Grace Baptist Church in Iowa Park, TX
16th- Cornerstone Baptist Church in Orange, TX & Grace Baptist Church in Sulphur, LA
20th- Vision Baptist Church in Cumming, GA
23rd- Pine Bluff Baptist Church in Albany, GA
March
1st Bible Believers Baptist Church Elizabeth, CO & First Baptist Church Gypsum, CO
3rd- 5th First Baptist Church in Englewood, CO
8th- Horizon Baptist Church in Thornton, CO & Pitkin Avenue Baptist Church in Fowler, CO
15th-18th: West Coast Baptist Church in Oceanside, CA
19th- 22nd: Valley Bible Baptist Church in Espanola, NM
25th- 29th: Gateway Baptist Church in Dewey, AZ
April
1st-Northland Baptist Church in Flagstaff, AZ
3rd-5th Calvary Baptist Church in Muleshoe, TX
8th Littlefield Independent Baptist Church in Littlefield, TX
19th- Blessed Hope Baptist Church in tenino, WA & Orting Community Baptist Church in Orting, WA
29th- May 3rd Faithway Baptist Church in Belington, WV
We want to thank you all for your prayers and financial support!
Take Care and God Bless
Sincerely In Christ,
Jacob and Lydia Jones Missionaries to the Native Americans
Cell: (928) 315- 5057
Email: jacobjones6064@gmail.com
II Corinthians 4:3-4
"But if our Gospel be hid, it is hid to them that are lost: in whom the god of this world hath blinded the minds of them which believe not, lest the light of the glorious gospel of Christ, who is the image of God, should shine unto.