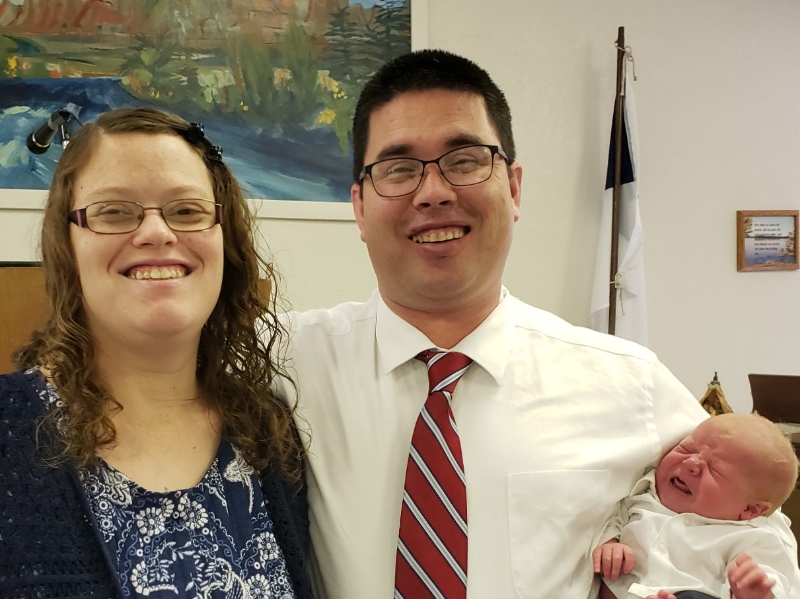 Dear Family and Friends,       
We want to thank you so much for your prayers and financial support these past few months!
    Due to Lydia's health, we have limited ourselves to part time deputation.
    It has been a roller coaster ride these past few weeks, but through it all God has been good to us!
    You may have already heard some of the following news on social media, but for the ones who haven't heard here is our  update for the last 3 months.
    During the month of February, Bro. Jacob travelled to New Mexico and all through Arizona to present the ministry. When not travelling, he stayed with Lydia at the Ronald McDonald Home in downtown Phoenix. He had the opportunity while driving on the Navajo reservation to see new sights and meet new Native pastors.
He went through both rain and snow during his trip, but was very thankful for God's protection while travelling on the weekends!  
    We would like to thank the Aguilar Family, the Stenger Family, the Gifford Family, and the Wilbur Family for staying with Lydia while Bro. Jacob travelled.
    Throughout the week, Bro. Jacob cared for Lydia, set up future meetings, and worked on a sermon series on Proverbs for the teen curriculum. He and Lydia kept in contact with people from the Cocopah reservation via social media.
    We knew the month of March would be a challenge due to Lydia's pregnancy complications and Samuel's birth.    "Trust in the Lord with all thine heart, and lean not unto thine own understanding. In all thy ways acknowledge Him, and He shall direct thy path."Prov. 3:5-6    Through the challenges we experienced, God has tested our faith in Him.
     Bro. Jacob was able to present at 3  churches in Arizona and one in southern California. We would like to thank these churches for being extremely flexible and for allowing him to come and present.
    During the month of March, Lydia was suffering from preterm labor, shortness of breath, and high uterine fluid. The specialists told us that Samuel looked good and that they wanted Lydia to carry him to 37 weeks because she was stable.
    On March 27th, Lydia was admitted to the hospital and induced at 7 a.m. Bro. Jacob, Pastor and Mrs. Veldhuis, and Mrs. Wilbur were there. She was given Pitocin via I.V. and a catheter to help speed labor.
    Throughout the day, the contractions grew stronger and she was given an epidural. By that night, she was dilated to 10 cm. She contracted all night, but her water hadn't broken so they broke it early the next morning.
    Lydia's specialists had determined that a vaginal delivery was safest, and she labored throughout the day. However, the Dr. discovered that her pelvis was small and after hours of pushing,  Samuel wasn't progressing through the birth canal. Her epidural also failed and the anesthesiologist didn't realize it. She was finally rushed into an emergency c-section.
    Samuel Jacob Jones was born at 2:43 p.m. on March 28, 2019. He weighed 7 lbs 4 oz! We were so excited to finally see our baby boy face to face!!
    While recovering from the c-section, Lydia was monitored for blood clots and heart problems. After 4 days, she and Baby Samuel were cleared to go home.
    On March 30th, Lydia was discharged and she and Bro. Jacob were able to go home to their apartment in Yuma after 3 months of living at the Ronald McDonald Home. It was so exciting (and nerve wracking!) to take our baby boy home for the first time!!
    The next day, we noticed Lydia had severe leg swelling and shortness of breath. She was taken to the hospital in Yuma. There, they gave her IV diuretics. After 4 days, the Drs. found that she'd suffered heart failure during the c-section and had lost a lot of blood. Lydia lost 22 lbs of fluid and felt much better!
    Her heart is recovering extremely well, but her Drs. say she cannot travel for the next few months due to a high risk of blood clots.
    Due to Lydia's health, and Jacob caring for she and Samuel, we feel that he should hold off on full time deputation until they are healthy enough to join him on the road.
    In the meantime, Jacob and Lydia will be working with Cocopah teens and adults doing discipleship, Bible clubs, Wednesday night teen class, and other activities.
    In April, the Jones family had a great time attending Resurrection Sunday as a family! Pastor Veldhuis spoke on the resurrection and there was plenty of food!
    Please continue praying for souls to be saved and continue praying for us as we minister to the Native Americans.
                 Future Ministry Goals     One of our main goals is to begin a couples class at Bethel Independent Baptist Church. Another is to start the H.O.P.E. addiction ministry. In the future, we also desire to plant a church on the Quechan reservation and establish other ministries as the Lord leads us to start in order to reach Natives for Christ. Please pray that God would begin working in hearts and opening doors in order to allow us to reach these goals.      Currently ,there are over 1.6 million Native Americans in the United States and 562 distinct sovereign tribes. Many of these tribes struggle with substance abuse and poverty and have no gospel witness. Please pray with us that God will send more laborers into the Native American field located right in our backyard. 
Prayer Requests:
Salvations- Mariella, Satori, Ayla, Cayden, Airus, Sherry, Stanford, Sylvia, Mary, Joe, Jessie.
Spiritual Growth- Molly, Loren, Tyler, Lilly, Roxanna, Alex, Edward, Justice, Jasmine, Mya, Kayla, Vincent
Health: Lydia, Sherry with possible tumor; Mary, Edward, and  Bro. and Mrs. Veldhuis with general health.Personal Needs:
     That more churches will take us on for support. As of now, we are at 51% of our support goal.
These next few months, we will be a little tight financially due to only being on part time deputation as well as the limitation of presenting to only nearby churches. Pray that the Lord will provide for our needs. 

Praises:
      On February 20th, God provided us a van for deputation and ministry activities. Thank you for your prayer and financial giving towards the van. 
Lydia and her safe delivery.
Samuel is in good health. 
Bro. Jacob safety while traveling.
The Lord has been so good towards our family.
Thank you for your prayers!

                        Sincerely In Christ,
Jacob and Lydia Jones Missionaries to the Native Americans
                     Cell: (928) 315- 5057
                     Email: jacobjones6064@gmail.com

II Corinthians 4:3-4
"But if our Gospel be hid, it is hid to them that are lost: in whom the god of this world hath blinded the minds of them which believe not, lest the light of the glorious gospel of Christ, who is the image of God, should shine unto.